How Grand Rapids city officials almost invested money intended for COVID-19 relief into public surveillance systems that don't work
By: Kellan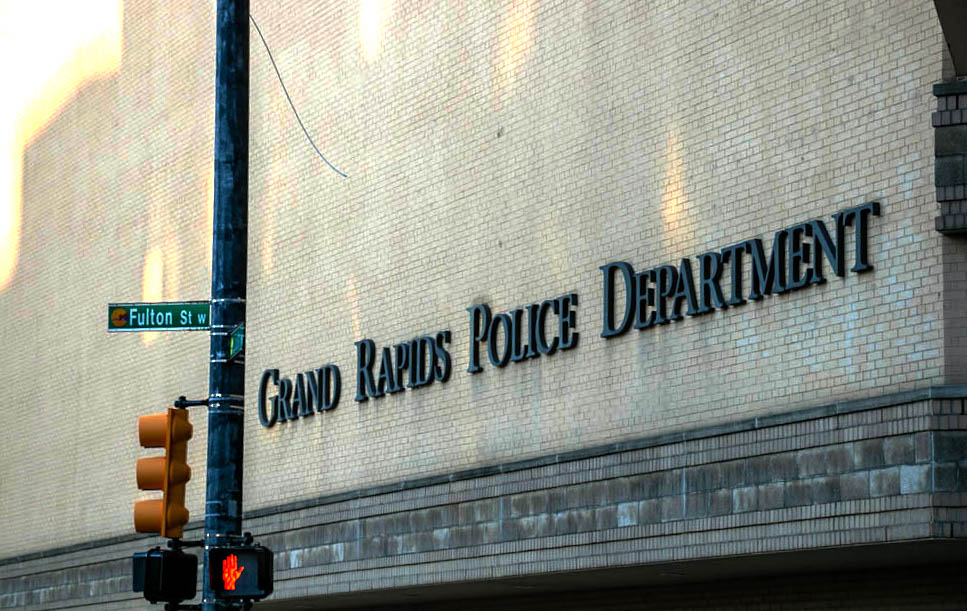 An unprecedented situation among Grand Rapids city officials occurred on Tuesday, November 17th, 2020, when the Committee of the Whole voted on a 3-3 split decision to refuse $500,000 in CARES act money offered to the city by Kent County Commission for "violence prevention." Was this situation unprecedented? Was the refusal of the money just another event in an almost decade-long Grand Rapids Police Department driven saga of surveillance? Was the money really for violence prevention?
To find out why the Commissioners of Grand Rapids refused the $500,000, we have to understand how this sum of cash was first offered to them. This tale begins with ShotSpotter, a seldom known company, and their surveillance-based technology.
The Case Against ShotSpotter
ShotSpotter is a publicly-traded company (NASDAQ: SSTI) that provides gunshot detection technology to both private and public consumers, the latter of which are mostly police departments. Aside from the implications of furthering the prison industrial complex in Michigan—that is, transferring large sums of state funds into a private company's bank accounts to "prevent violence" and put more people in jail—ShotSpotter has another secret: the technology doesn't work as good as they say it does.
Machine learning is a software development concept that can do great things, but it is understood that error in a statistical model is natural. ShotSpotter proudly advertises that it uses machine learning to differentiate between sounds like a gunshot and sounds like a vehicle's exhaust backfire. In practice, ShotSpotter's tech is shamefully inaccurate.
Take the case of Silvon Simmons: an unarmed Black gentleman in Rochester, New York, who was ambushed by police in his friend's driveway after getting beer and cigarettes. Silvon ran for his life and was shot in the back three times by Officer Joseph Ferrigno. With his partner's help, Ferrigno fraudulently charged Silvon with Attempted Murder of a Police Officer, saying that Silvon shot back at Ferrigno. Silvon then spent 18 months in a corrections facility.
In court, the prosecution used ShotSpotter gunshot tapings as evidence that Silvon shot back. "Compelling" audio-based recordings were incredibly effective at getting the jury's attention. Silvon's defenders found that ShotSpotter tech originally registered the shots as helicopter noise. It was not until the Rochester Police Department contacted ShotSpotter and alerted that there should be gunshots in the area that ShotSpotter initially registered three shots. Subsequent calls between ShotSpotter and RPD miraculously registered five shots! When brought this evidence, the Judge saw how subjective ShotSpotter data was and called it a mistrial. Silvon Simmons was able to go back home but not before RPD Officers berated Silvon as they left the courtroom.
Silvon is now suing the Rochester Police Department and ShotSpotter for making a mockery of his civil liberties. A singular case reveals that ShotSpotter is just another tool used by police to commit malpractice. The marketing lies ShotSpotter utilizes to sell its capital to customers are the only thing keeping ShotSpotter's $377 million market cap artificially inflated.
A Coalition Formed
When the City of Grand Rapids announced that Chief Payne of the Grand Rapids Police Department would be holding two town halls on November 2nd and November 5th, the Grand Rapids DSA Political Action working group went into action. Before showing up to the town halls, the Political Action working group researched ShotSpotter, drafted scripts for its members (and others) to use when they called in, and organized with other groups to educate and build a powerful political force. People of all types were able to make educated opinions about ShotSpotter. This allowed everybody who called in to express their distaste for the idea or even provide alternative solutions.
At the November 10th Grand Rapids City Commission meeting, a coalition was formed between Justice for Black Lives, Defund the GRPD, Grand Rapids United Progressives, People's Budget GR, Socialist Alternative, the GRDSA Political Action working group, and other allies. Callers expressed their opposition to the using relief money to fund a billion-dollar company. The Commissioners then responded with their statements, and some even made attacks, noting that they heard from "a lot of white people, very few Black people." This was even said as a legitimate statement to the Black leaders of some of the groups mentioned above. Public comments were taken by phone!
In the span of a week, culminating in the decision by the Committee of the Whole to reject the $500,000 on November 17th, City Manager Mark Washington negotiated with the Kent County Commission to apply other uses of the money. The county stayed firm in its decision. They did not let the money have a chance at being applied to any other "service" than the GRPD.
While the money is not in the GRPD's hands, ShotSpotter's ambitions have not ended in Grand Rapids. The item up for vote had a letter to the Commission from Chief Payne, who informed the public that ShotSpotter would try to run a pilot program in willing neighborhoods and, from that program, report the findings. This pilot program could change the minds of the Commission and enable ShotSpotter to transact real business in the months ahead.
What's Ahead in the Landscape?
Capitalists run the city of Grand Rapids and, as such, they will shape the future of how it operates and interacts with other capitalists. The police are a service provided by the government and are especially favored by the capitalists because they force "law and order" on working-class citizens to keep them in line. So it is no surprise that new investments into the GRPD are being planned or already in place.
As of this writing, the Grand Rapids City Commissioners voted on amendments to the FY2021 budget that gives $1.3M more to the GRPD. $1.1M of the sum value will go to extend the Homeless Outreach Team's shift schedule until June-July 2021 during an unprecedented rise in unhoused individuals in Grand Rapids. The rest will go to Operation Safe Neighborhoods for GRPD to patrol more in the street in areas affected by gun violence.
An influx of new money to the GRPD will allow cops to start buying items on their oppression wishlist. Documents from the GRPD show that police will spend the money on aerial drones to create a mechanized "first-response system." While that sounds good on paper, it is really hard to ignore the distinctive surveillance advantage that drones could bring to the oppressing force of the ruling class state.
A true people's state would not ignore the demands of its citizens. Money being spent on tools of oppression should instead be spent on addressing the city's imminent needs. Issues stemming from lack of housing, food insecurity, and a health crisis could be greatly alleviated for Grand Rapids citizens. The city must redirect its priorities away from dismal money sinks such as the police department and attracting foreign industry through tax breaks. As tax-paying citizens of Grand Rapids, we deserve the right to direct these funds and receive relief as we see fit. To create a socialist society, we must rigorously organize together to wrest control of all the money and power of the oppressors in the communities we live in.